HT Series
HT Series chain provides a significantly higher Tensile Strength (up to 19%) than ANSI G8 Series chain by applying through-hardened pins and link plates of the next larger pitch size in ANSI G8 series.
Compared to the previous series, the wear life of the HT Series is doubled by using solid bushes instead of curled bushes.
HT Series chain also provides a higher fatigue strength and is best suited for low operating speeds (up to 50 m/min). Dimensions of the chain are identical to the H Series chain.
Single Strand Details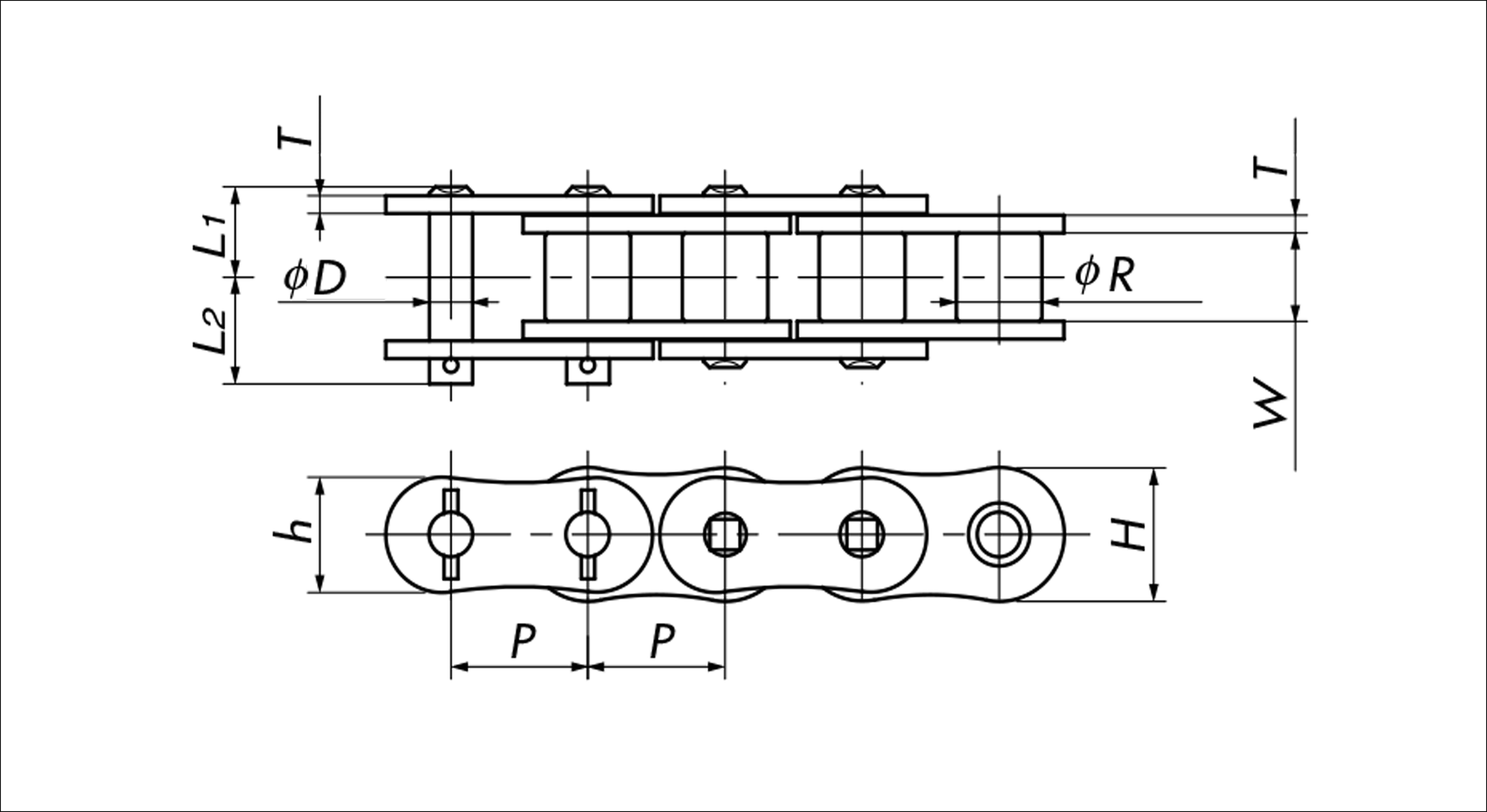 Dimensions-mm
Tsubaki Chain No.
Pitch (P)
Roller Diameter
Inner Width
mm
Inch
R
W
RS60-HT-1
19.05
¾"
11.91
12.70
RS80-HT-1
25.40
1"
15.88
15.88
RS100-HT-1
31.75
1¼"
19.05
19.05
RS120-HT-1
38.10
1½"
22.23
25.40
RS140-HT-1
44.45
1¾"
25.40
25.40
RS160-HT-1
50.80
2"
28.58
31.75
RS200-HT-1
63.50
2½"
39.68
38.10
RS240-HT-1
76.20
3"
47.63
47.63
Dimensions in mm
Tsubaki Chain No.
Pin
Link Plate
Diameter
Length
Thickness
Height
∅D
L1
L2
T
h
H
RS60-HT-1
5.96
14.80
17.00
3.20
15.60
18.10
RS80-HT-1
7.94
18.30
20.90
4.00
20.80
24.10
RS100-HT-1
9.54
21.80
24.50
4.80
26.00
30.10
RS120-HT-1
11.11
26.95
30.55
5.60
31.20
36.20
RS140-HT-1
12.71
28.90
33.10
6.40
36.40
42.20
RS160-HT-1
14.29
33.95
38.45
7.15
41.60
48.20
RS200-HT-1
19.85
42.90
48.10
9.50
52.00
60.30
RS240-HT-1
23.81
54.80
62.30
12.70
62.40
72.40
Dimensions in mm
Tsubaki Chain No.
Min. Tensile Strength

kN
Average Tensile Strength

kN
Max. Allowable Load

kN
Approx. Mass

Kg/m
Number of links
per unit
RS60-HT-1
48.10
55.90
9.81
1.80
160
RS80-HT-1
81.40
93.20
16.20
3.11
120
RS100-HT-1
124.0
142.0
24.50
4.58
96
RS120-HT-1
167.0
191.0
32.40
6.53
80
RS140-HT-1
218.0
250.0
42.70
8.27
68
RS160-HT-1
278.0
319.0
55.90
10.97
60
RS200-HT-1
486.0
559.0
78.50
18.41
48
RS240-HT-1
768.0
883.0
113.0
29.13
40
Semi press-fit type connecting links are supplied.
Standard ANSI sprockets can be used for single strand chain.
Sprockets with a low teeth number must have hardened teeth.
Steel grade of sprockets must be C45 or higher.
Multi strand chains are available on request.
Pins are quad riveted.
No offset links available