Mail Sort™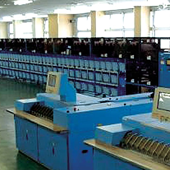 The Tsubaki Mail Sort is a machine specially designed to sort standard and nonstandard-sized mail. Until now, it has been necessary to sort mail in three steps, from large, to medium, to small items. However, the Tsubaki Mail Sort system dispenses with the extra steps, sorting all sizes in just one step.
Features

Upright position of mail enables high sorting performance even at low speeds
Racks can be piled up, enabling space-savings
Freely adjustable layout of racks enables mail to be sorted by post code, branch office, driver, or department etc.
This system is ideal for
Post offices, banks, transit companies, mailing companies, etc.
Specifications
Sorting capacity
16,000 pcs/hour max
Applicable products
Max. 400 × 300 × 30 mm (L × W × H) Weight : 1.3kg
Min. 140 × 90 × 1 mm (L × W × H) Weight : 0.01kg
Postal materials, mail, fliers, pamphlets, etc.
Feeding method
Manual or automatic casting
Drive
Induction Motor
Power supply
AC 200/220V, 50/60Hz
Catalogs